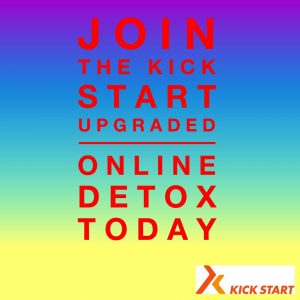 We started the upgraded DETOX and as it has been so successful with all of the tweaks I have made we are continuing.
So YOU CAN JUMP IN And start NOW back at DAY 1
Its got a LOT Of new tweaks in that I am trialling.
Do you want to get involved?
Sign up now and lets get going – You can start this plan at any time.
As the initial trial is now completed there is not a private Facebook group but you can still check in with me on my main Facebook page
14 Kick Start Fat Loss Days.
You will be working through the plan at your own pace all of the instructions are clear and easy to follow.
Look what the current group have been saying:
Since doing this ksfl detox, I've kicked my caffeine addiction, I feel energised, stronger, and my PMT this month is non-existent (usually I am chopping heads off at this point in my cycle). There's some definition in my muscles, and the biggest tell of all – I can finally fit my wedding band back on my finger without it cutting off the circulation! Brilliant!" Sophie
Before I started the upgraded KSFL detox I was getting regular hot flushes during the night which were keeping me awake. Since the detox I have had no flushes whatsoever and am sleeping better than I have done in years. Weight and inch loss is an added bonus especially when I feel so full all the time" Andrea 
The KSFL upgraded programme has delivered on weight and inch loss but most detoxs will do that what makes this programme outstanding is the education, support and motivation that I know will have a long lasting impact on my health and well being" Jayne
If you are serious about losing weight getting stronger and happier then KSFL is for you! After only 7 days ksfl detox, my energy levels were up, Mood lifted and yes felt a lot lighter! KSFL fits into your everyday life… It's not gimmicky and not calorie counting, it's A WAY OF LIFE" Nathalie
7 days of KSFL detox and I shed the 8lbs that I'd been struggling to lose for years! I feel awesome on this plan, sharp minded, energised and empowered. This is the future of healthy eating" Clare
Since being on KSFL I haven't had my usual monthly hormonal 'ups and downs' as well as my nightly hot sweats have totally vanished!! KSFL is a healthy diet for life as well as the added bonus of losing weight too. Rachel Holmes is an inspiration and her enthusiasm and knowledge are first class! You won't be disappointed!!- Join the Revolution" Arlene
In 7 days i lost 6lbs after months of not dropping, feel fab, no bloated tummy and loads of energy" Suzanne
Since doing the upgraded KSFL detox, I have realised that I don't have to keep snacking on "healthy foods" to keep me going. I now eat 2 or 3 meals instead. I have so much more energy to do the things I keep putting off. I think clearer all day, sleep better. Feel very positive about my body, as I can see it changing daily. I know this will not be just a detox, ksfl, will be a lifestyle change. Thanks Rachel Holmes" Sara
After 7 days on KSFL I lost 8lbs , my PMT and period was hugely different , I suffer with fibroids so it was a huge step forwards , my sleep is fabulous and I'm up with a spring in my step , I suffer with sarcoidosis which can be painful , clean eating has given me more energy and I feel rebalanced all over again" Joanne
Since 2007 when I started Kick Start Fat Loss as an online weightloss programme for Fitpros I have run hundreds of Online groups with amazing results, but I've been so busy with the rapid expansion of the business & traveling I have not had time to personally manage a group until NOW…….
I have been doing a ton of deep research into fatloss and nutrition and have tweaked the online model.
You will get 14 new workouts – Including:
Kick Start EXTREME,
Kick Start LEAN,
Kick Start TABATA,
Kick Start Fitness Pilates,
Kick Start AmRap & Accumulator
The workouts are awesome and for all levels!
YOU will be able to try new Fatloss protocols that will help you understand and break your food addictions & cravings – Why you crave foods and put a stop to this once and for all.
Understand how traditional weightloss methods are DOOMED to failure as the scientific evidence behind these myths does not stack up.
I will be not only helping and supporting you but educating you to understand why the Kick Start method works.
You will not be hungry and feel like you are missing out as the brain fog lifts.
Break the sugar, gluten and wheat addictions that cause so many health issues that you live with.
A whole new level of high performance is just around the corner.
Are you ready to rock?
Daily motivation, education and inspiration for your Body, Mind and Soul
All online. all you need is access to the internet.